Welcome to Kuki Christian Church website
Kuki Christian Church (KCC) has been actively serving the people of North Eastern India and elsewhere ever since 1979.
With a vision to serve God and humanity through its varied activities such as Health care, Relief & Community Development, Theological studies and sharing the faith, KCC, thus, stands for empowerment of children and the community and wholistic restoration of humanity. KCC seeks to work with like-minded organizations so as to fully transform and realize the love of God on earth.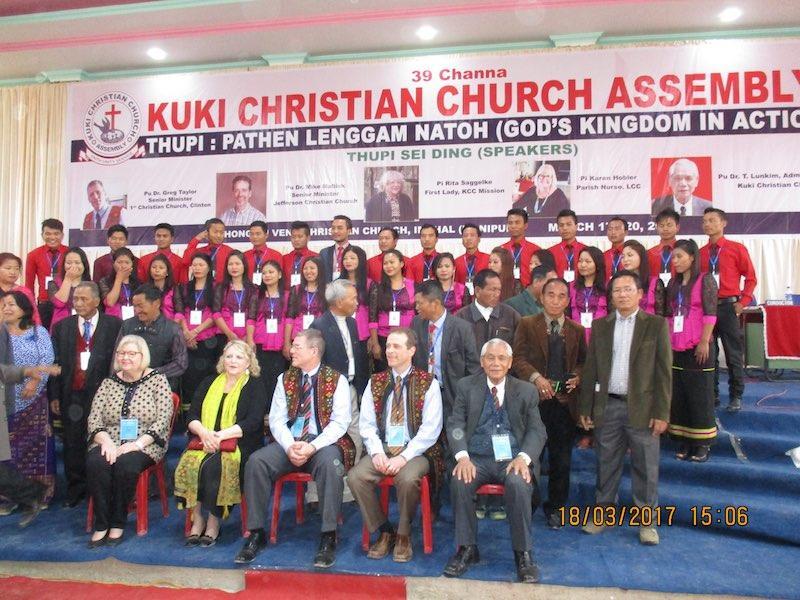 The present situation of the Kuki Christian Church in Imphal, Manipur
It is sad and disheartening that the majority Hindus living in the state of Manipur in the northeast of India, carried out genocide in the state against the Kuki community since the 3rd of May, 2023.  The attack was unexpected and the loss immeasurable.
The first target was to destroy every standing church buildings in the city. Till date it has been reported that more than 50 churches has been burned and it is  yet to ascertain the exact number.
Thousands of houses have been set ablaze and people rendered homeless.
More than 50 persons belonging to the Kuki community was brutally murdered during the riot which includes men, women and children.
The miscreants looted and destroyed the Kuki houses, of cash, jewelries and furniture.  The miscreants stole whatever they could not sparing used clothes, flowerpots and others. Vehicles either 4 wheels or 2 wheels was also set ablaze. Such was the horror that the Kuki community had to face and flee from their residence without getting time to take even a bag of emergencies with them.
Due to the genocide, thousands of the Kukis ran for their lives to nearby Army camps for protection and survival. Thousands of the Kukis have become refugees in their own Motherland. The old, young, children all had to run for their lives. A few lost their lives in the relief camps as there was many who needed medical care and could not receive on time.
What was destroyed in the Kuki Christian Church campus:
8 staff quarters have been completely razed
The Printing Press with all expensive printing machines and equipment, papers, furniture and others have been burnt to ashes
The Trulock Seminary hall which was used for all ceremonies and celebrations, fitted with electronic items like microphones, speakers, mixture, etc., furniture, chairs for 200 capacity and others have been destroyed and razed.
The Bookstore containing various books on religion and other topics and the stock of books all razed
The Guest room to accommodate 5 persons or more with all its furnishing, kitchen item and furniture all razed
The college Library books are damaged and burnt
At the moment, the campus is deserted as all staffs, students and office workers had to flee to save their lives.
Due to this huge uncertainty and a big question on the safety of not only the premises but also the staff, students and workers we are at lost as to when the Seminary and Nursing school can start resuming its classes. 
However, we are happy to inform that all has not gone in vain as we received information that the Christian Hospital has been treating civilians who was injured during the riot, free of cost.
We cannot predict how long this genocide situation will continue. Till today, there are reports of houses being burned and other casualties.
Internet services is yet to be restored.
Our hope and prayer is that the situation in the state of Manipur improves and we can start with the new normal again soon.
Thank you for your prayers.
Few  updates:
Confirmed Dead: 41
Unconfirmed Dead: 50+
Injured: 195*
Churches Burnt: 220+
Churches Adm/Quarters burnt: 73+
Villages burnt: 112+
Houses Burnt: 1531
Relief Centers Opened: 54
Total number of displaced persons: 15888
(Extract from ITLF Bulletin_Vol1_Issue13 - 22May2023)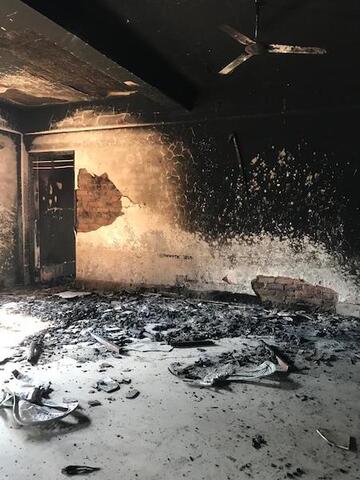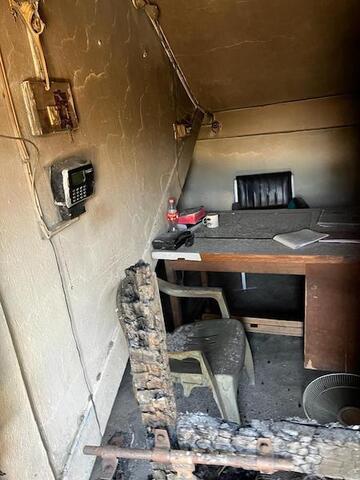 Photos given here was taken in a hurry along with military escort.  When the situation gets better, more pictures will be uploaded for better understanding of the devastation that took place in the campus.